Calendar
Sep
27
Thu
Membership Luncheon and Fashion Show

@ AHRC Mansion
Sep 27 @ 10:00 am – 3:00 pm
---
Thursday September 27, 2018
Members of AHRC Nassau are cordially invited to attend our Annual Luncheon and Fashion Show on
Thursday September 27th, on the terrace at Brookville
10am – Boutique Shopping, Noon – Luncheon, 1:30  – Fashion Show 
During the Membership Luncheon, AHRC Nassau will recognize the 100th Anniversary of our mansion and campus. 

Please join us as we celebrate our history and this special year.
REGISTRATION IS CLOSED AT THIS TIME – WE LOOK FORWARD TO SEEING YOU THIS THURSDAY!
---
AHRC Nassau 100 Year Anniversary and History
AHRC Nassau is headquartered at the former Gold Coast estate of James Norman Hill and his wife, Marguerite Sawyer. James was the eldest son of James J. Hill, founder and president of the Northern Pacific Railroad Company.  Completed in 1918, the mansion and 230-acre estate, known as "Big Tree Farm," was the couple's summer residence.  The home and surrounding buildings were designed by the renowned architectural firm, Walker & Gillette, with landscaping by the prominent firm, Olmsted Brothers.
Today, AHRC Nassau is located on 17 acres of the original estate.  The campus includes the mansion, a large number of unique tree species, reflecting ponds, a pool house and operational greenhouses. Since purchasing the property in 1958, AHRC Nassau's campus has grown to include an education center for children, along with a full-service health center.
A retrospective of AHRC Nassau, its Brookville campus and highlights of our cause and achievements over the past 100 years will be on display during the Membership Luncheon.
Oct
4
Thu
Family Seminar Series: Decision Making Big and Small

@ AHRC Plainview
Oct 4 @ 7:00 pm – 9:00 pm
Oct
14
Sun
AHRC Walk

@ Eisenhower Park, Field 6/6A
Oct 14 @ 10:00 am – 1:00 pm
Oct
21
Sun
Rockville Centre Fall Brunch

@ Rockville Links Club
Oct 21 @ 12:00 pm – 3:00 pm
AHRC
Rockville Centre Auxiliary
Sunday Brunch

Menu
Assorted bagels, muffins, danish, sliced fresh fruit,
hot chafing dishes, omelet station, quiches, carving station,
salad, dessert, coffee, tea and assorted juices
Please make checks payable to
RVC AHRC and mail with this form by October 12th to:
Eileen Maroney, 57 Broadway, Rockville Centre, NY 11570 or
Kathleen Saville, 93 Voorhis Avenue, Rockville Centre, NY 11570
Oct
25
Thu
Fall Open House

@ Long Island Marriott - Uniondale
Oct 25 @ 12:00 pm – 8:00 pm
Looking for a meaningful job? We want to meet you! Stop by our open house, next week; see if our open positions might be a good fit; and interview with us, then and there! We offer a competitive benefits package, flexible schedules and a friendly work environment: www.ahrc.org/careers
Nov
29
Thu
Champions for Charity 2018

@ Americana Manhasset
From November 29 – December 2, 2018, over 70 participating Americana Manhasset and select Wheatley Plaza stores will donate 25% of designated full-price pre-tax purchases to the participating organization(s) of the customer's choice — including AHRC Nassau.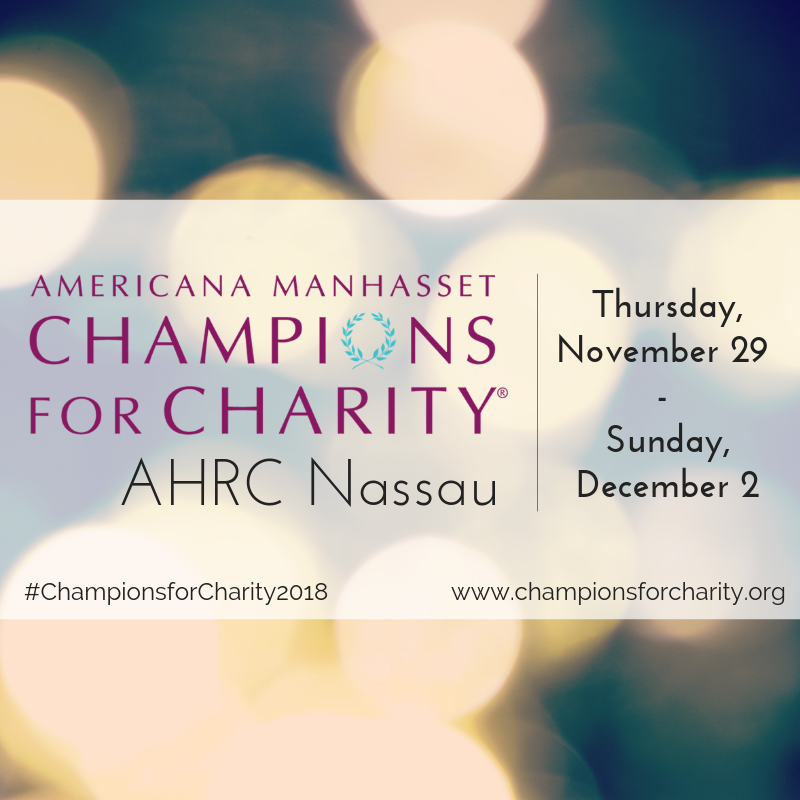 Purchases are not automatically eligible; you must register for a complimentary Champion Number, mark AHRC Nassau as your charity of choice, and present your Champion Number when making purchases during the event.

For more information,
visit championsforcharity.org
or call 800.818.6767.
Jan
9
Wed
Guardianship Information Session

@ AHRC Brookville Mansion
Jan 9 @ 6:00 pm – 7:30 pm
INFORMATION SESSION
ON 17-A GUARDIANSHIP APPOINTMENTS
FREE LEGAL SERVICES AVAILABLE* RSVP Below↓
January 9, 2019 at 6 p.m.
AHRC Nassau – 189 Wheatley Road, Brookville, NY 11545 – The Ballroom   – RSVP by January 3, 2019 
AHRC and the Center for Children, Families, and the Law at the Maurice A. Deane School of Law at Hofstra University are continuing their partnership to support economically disadvantaged families, considering guardianship appointments for their children  with developmental disabilities or delays.
Is the Cost of Legal Advice Preventing Your Family From Planning for the Future?

This information session will connect you with experts who can answer your questions and determine if you qualify for free legal support from Hofstra Law students and supervising attorneys.
For questions, connect with Eileen Stewart-Rooney at (516) 546-7700, ext. 4205 or erooney2@ahrc.org
Or visit
* For qualifying families.
---
Jan
21
Mon
Glen Cove Martin Luther King Jr. March

@ First Baptist Church
Jan 21 @ 9:00 am – 10:00 am
AHRC/Citizens will be participating in the Glen Cove Martin Luther King Jr. March. The march begins at the First Baptist Church, 7 Continental Place, Glen Cove, NY at 9 a.m. and ends at the Robert M. Finley Middle School, 1 Forest Avenue, Glen Cove between 9:15 – 9:20 a.m. The formal program begins at approximately 9:30 a.m. in the school auditorium. We are pleased to participate in this event; our greenhouse will be providing flowers for the stage and lobby table, while Café 230 will be providing cookies.
Jan
24
Thu
Entry Level Healthcare Hiring Event
Jan 24 @ 4:00 pm – 6:00 pm
Entry Level Healthcare Hiring Event Jan 24 – Direct Support
AHRC- Nassau Hiring Event
Thursday, January 24
4pm to 6pm
113-17 Levittown Parkway
Hicksville NY 11801
Feb
15
Fri
Mike DelGuidice Trio Celebrates the Music of Billy Joel to Benefit AHRC Nassau and F.H.S. Smile Club

@ Farmingdale High School
Feb 15 @ 8:00 pm – 10:00 pm
Love the music of Billy Joel? Come experience the best of the Piano Man with Billy Joel band member and tribute band leader Mike DelGuidice on Feb. 15 at Farmingdale High School. Proceeds will benefit AHRC Nassau and the FHS S.M.I.L.E. Club. Tickets available here.